InvestComics will be there and this show keeps getting better, see you there!
Case, Feister, Kemple, Woodall, and Yates at Baltimore Comic-Con! Buy Your Tickets Now!
BALTIMORE, MARYLAND – 

July 7, 2014

 –
 Tickets for the 2014 Baltimore Comic-Con are now on sale atwww.baltimorecomiccon.com/tickets! It is the show's premiere inaugural three-day event, held at the Baltimore Convention Center on 

September 5-7, 2014

. We are privileged to be able to welcome back Richard Case, Tom Feister, Chris Kemple, Rich Woodall, and Kelly Yates to our show! 
Richard Case got his start at Marvel Comics, working on Strange Tales, but got his first real run on Doom Patrol at DC Comics. He has also contributed to numerous other noteworthy, acclaimed titles at DC, including Sandman,Shade, the Changing Man, Preacher, and Hunter: The Age of Magic. He is also a contributor to the Artist Alley Comics digital initiative.
Tom Feister has contributed to numerous publishers and titles throughout the comics industry. Feister received kudos and recognition as inker on Wildstorm's Ex Machina, including an Eisner Award nomination for best team with penciller Tony Harris. More recently, Tom is credited with working on Marvel'sAvengers Assemble, Top Cow'sArtifacts and Artifacts Origins one-shot, IDW's G.I. JOE Origins, and covers on DC Comics' Legion: Secret Originsand IDW's G.I. JOE.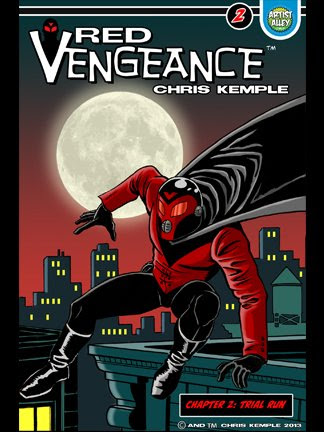 Chris Kemple is one of the contributors to the digital comics effort, Artist Alley Comics. After graduating with a BFA in Painting and Drawing from East Carolina University, Kemple worked as an assistant at Artamus Studios with Richard Case, Mike Wieringo, Jeff Parker, Casey Jones, and Scott Hampton, among others. Currently a teacher and freelance artist, Chris was a founding member of and texture artist and 3D object modeler at video game development studio, Red Storm Entertainment.
Rich Woodall, also an 
Artist Alley Comics
contributor, is known for his creator-owned titles, 
Johnny Rayguy
, the 
Zombie Bomb! Comic Anthology
, and 
Kyrra Alien Jungle Girl
. He has also worked on Image Comics' 
Savage Dragon
, 
The Perhapanauts
, and more recently worked on a variant cover for IDW's 
Teenage Mutant Ninja Turtles
.
Kelly Yates has provided artwork for Amber Atoms, Tales of Tellos, andThe Perhapanauts at Image Comics, numerous Doctor Who titles at IDW, Fear Agent at Dark Horse Comics, and JLA-Zat DC Comics. He also wrote Image'sAmber Atoms, and can lately be found contributing to Artist Alley Comics as well.
"It's fantastic to have these guys back to Baltimore," said Marc Nathan, promoter of the Baltimore Comic-Con. "They're all really solid artists and we're pleased to see them return in 2014!"
Tickets
General Admission and VIP Package tickets for Weekend, Friday, Saturday, and Sunday are now on sale! Visit www.baltimorecomiccon.com/tickets/ for more information and to purchase your advanced tickets now!
This year's previously confirmed guests for the show include: Eddy Barrows (Earth 2); Marty Baumann (Pixar artist); Jeremy Bastian (Cursed Pirate Girl); Marguerite Bennett (Batgirl); Mark Buckingham (Fables); Dave Bullock (Batman Black and White); Greg Capullo (Batman); John Cassaday (Doc Savage); Bernard Chang (Green Lantern Corps); Sean Chen (Amazing Spider-Man); Jimmy Cheung (Infinity); Cliff Chiang (Wonder Woman); Frank Cho (X-Men:  Battle of the Atom); Amy Chu (Girls Night Out); Richard Clark (House of Gold & Bones); Steve Conley (Bloop); Jeremy Dale (Skyward); Alan Davis (Wolverine); Rachel Deering (In the Dark); Todd Dezago (Tellos); Tommy Lee Edwards (Star Wars); Garth Ennis (Preacher, The Boys); Ray Fawkes (Constantine); David Finch (Forever Evil); Jose Luis Garcia-Lopez (All-Star Western); Gerhard (Cerebus the Aardvark); Dave Gibbons (Watchmen); Keith Giffen (The New 52: Future's End); Bryan JL Glass (Mice Templar); Michael Golden (The Ravagers); Cully Hamner (Animal Man); Dean Haspiel (The Fox); Fred Hembeck (Garfield); Adam Hughes (Before Watchmen: Dr. Manhattan); Justin Jordan (Luther Strode, Green Lantern: New Guardians); Dan Jurgens (The New 52: Future's End); Barry Kitson (Empire); Aaron Kuder (Action Comics); David Mack (Shadowman); Kevin Maguire (Guardians of the Galaxy); Alex Maleev (Moon Knight); Billy Martin (Vitriol, The Hunter); Ron Marz (Witchblade); Mike McKone (Ultimate FF); Bob McLeod (X-Men: Gold); Tradd Moore (Deadpool Annual); Mark Morales (New Avengers); Dan Parent (Archie, Veronica, Kevin Keller); David Peterson (Mouse Guard); Joe Prado (Justice League); Brian Pulido (Lady Death); Ron Randall (Trekker in Dark Horse Presents); Tom Raney (Incredible Hulk); Ivan Reis (Aquaman and The Others); Budd Root (Cavewoman); Don Rosa (Donald Duck); Craig Rousseau (Perhapanauts); Joe Rubinstein (The Official Handbook of the Marvel Universe); Andy Runton (Owly); Alex Saviuk (Web of Spider-Man); Louise Simonson (Power Pack); Walter Simonson (Thor); Andy Smith (Superman #23.1: Bizarro); Allison Sohn (sketch card artist); Charles Soule (Thunderbolts); Jim Starlin (Thanos: The Infinity Revelation); Paul D. Storrie (Sheena, Queen of the Jungle); Ben Templesmith (The Memory Collectors); Peter Tomasi (Batman and Two-Face); John Totleben (Swamp Thing); Herb Trimpe (GI Joe:  A Real American Hero); Billy Tucci (Shi); Rick Veitch (Saga of the Swamp Thing); Mike Vosburg (Lori Lovecraft); Mark Waid (Daredevil); Lee Weeks (Daredevil); Bill Willingham (Fables); Renee Witterstaetter (Joe Jusko: Maelstrom); Thom Zahler (My Little Pony); and Mike Zeck (Secret Wars).
In the coming weeks, look for more announcements from the Baltimore Comic-Con. We are looking forward to highlighting our guests, the Harvey Awards, industry exclusives, and programming. The latest developments can always be found on our website, Twitter, and Facebook pages.
Contact Information
Please use the following e-mail addresses to contact the Baltimore Comic-Con:
press@baltimorecomiccon.com – for any general press inquiries or to be added to our PR distribution
promoter@baltimorecomiccon.com – for requesting exhibitor, publisher, and Artist Alley applications
registrar@baltimorecomiccon.com – for inquiries about submitted registrations
harveys@baltimorecomiccon.com – for the Harvey Awards ceremony and banquet
general@baltimorecomiccon.com – for general Baltimore Comic-Con inquiries
About The Baltimore Comic-Con
The Baltimore Comic-Con is celebrating its 14th year of bringing the comic book industry to the Baltimore and Washington D.C. area. For more information, please visit www.baltimorecomiccon.com.
About The Harvey Awards
The Harvey Awards are one of the comic book industry's oldest and most respected awards. With a history of over 20 years, the last 9 in conjunction with the Baltimore Comic-Con, the Harveys recognize outstanding achievements in over 20 categories. They are the only industry awards nominated and selected by the full body of comic book professionals. For more information, please visit www.harveyawards.org.